Yarrabilba State Secondary College students learn to cook as Jamie's Ministry of Food visits
05 May 2020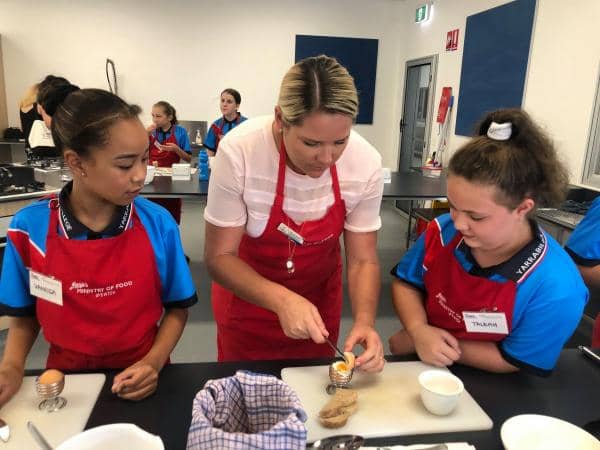 Two classes of Year 7 and 8 students gained eggscellent kitchen skills today when Jamie's Ministry of Food visited Yarrabilba State Secondary College.
But a new repertoire of egg-puns wasn't all the lucky students learned at the first lesson of the five-week cooking program.
During the 90 minute session the group were introduced to skills and techniques designed to make it easier to cook delicious and quick meals on a budget.
Students were taught how to respect food and cooking utensils as they poached, scrambled and boiled eggs, and cooked a healthy spinach, feta and caramelised onion frittata.
Imogen Bennett said she was enjoying the lesson and could not wait to show off her new skills at home.
"I can't wait to be a more professional cook than my mum," she said, adding that both her mum and dad were good cooks.
Imogen, who has been helping her parents cook since a young age, felt comfortable and familiar in the kitchen environment but happily learned new things, including how to cook eggs differently from her usual specialty – scrambled eggs.
Bailee Morris, also used to helping in the kitchen at home, made an almost perfect poached egg and showed off some great knife skills in the college's food technology classroom.
The cooking class marked yet another historic moment in YSSC's history, with it being the first time the College's junior hospitality facilities were utilised.
Rhiannon Hutchison JMOF Mobile Kitchen Queensland Manager was honoured to bring JMOF to Yarrabilba's newest secondary college.
She said that teaching program concepts such as basic food education, shopping and money-saving tips is paramount to improving health problems in Australia caused, in part, by lack of food knowledge and skills
Pan extraordinaire: Bailee Morris sizzles up some food at Yarrabilba during the 90-minute session.
"We know that when children learn to cook, they tend to have better diets and continue healthy habits into adulthood," she said.
Students were surprised to see that nutritious meal options could be prepared and cooked in a matter of minutes with many indicating they would be able to cook breakfast before their school day commenced.
Course convenor and Head of Department Marney Brown said it was wonderful to watch the students immersed in the lesson and she was looking forward to seeing the nutritious meals the students will create from scratch each week.
"At YSSC we are passionate about creating positive change though meaningful programs to engage and empower youth. Schools play an important role in promoting and encouraging students to establish healthy eating behaviours. The opportunity to participate in Jamie Oliver's Ministry of Food will provide students with the knowledge and skills to make healthy food choices," she said.
We were lucky enough to also have a visit from Tony Cook, the Director General PSM of the Department of Education.
Mr Cook who was visiting the College on core business, took time out from his tour of our facilities to engage with the students in their lesson.
Delicious: Imogen Bennetts enjoying a treat on the day when Jamie Oliver's Ministry of Food visited Yarrabilba State Secondary College.
The smells were so inviting that Mr Cook jokingly asked if he could stay for the duration of the lesson.
JMOF is a hands-on cooking course, using Jamie Oliver's recipes and his philosophy on cooking, buying, storing and eating good, fresh, healthy food.
The course provides basic food education, shopping and money-saving tips to make beautiful, and nutritious, quick meals from scratch. Participants will learn how to bake, grill, saute, boil and roast using fresh, quality ingredients while gaining confidence in the kitchen.
The mobile kitchen, which will be in Yarrabilba for 17 weeks, is part of the Good Foundation, whose vision is to lead the transformation of Australia's food habits through advocacy, program delivery and collaboration to maximise the health, wellbeing and productivity of communities.
Full article can be found in The Jimboomba Times here.