Western Australians announced as Jamie Oliver's latest Australian Team
03 Mar 2016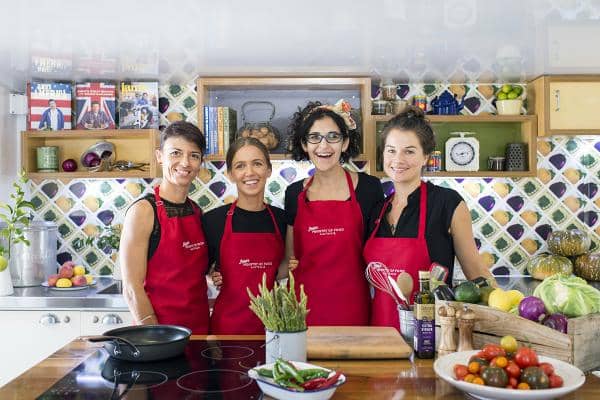 AS RESIDENTS OF WESTERN AUSTRALIA GEAR UP TO EXPERIENCE CHEF AND CAMPAIGNER, JAMIE OLIVER'S MINISTRY OF FOOD COOKING PROGRAM SET TO LAUNCH IN MARCH 2016, FOUR PASSIONATE WESTERN AUSTRALIANS HAVE BEEN ANNOUNCED AS THE PROGRAM'S LATEST TEAM OF DEDICATED FOOD TRAINERS.
Based on Jamie Oliver's beliefs around the associated health benefits of cooking fresh food from scratch, the West Australian team will introduce the innovative community cooking program from ECU's Joondalup Campus, the first location launching the three year Edith Cowan University partnership. Jamie's Ministry of Food, delivered by The Good Foundation, achieves measurable health and wellbeing outcomes for participants by inspiring and empowering them to change in the way they and their families eat, and how they think about food. The program requires its food trainers to be passionate about education and cooking as a life skill.
The new team has been selected from a highly qualified and enthusiastic pool of Western Australians, each looking to join Jamie Oliver in his cause to teach people basic cooking skills for life long use.
Marie Fitzpatrick: Mobile Kitchen Manager, Holding a Bachelor of Science from ECU, Marie has a wealth of knowledge when it comes to Jamie's Ministry of Food having worked previously as a food trainer in the Geelong centre. In addition to her time with Jamie's Ministry of Food in Victoria, Marie's experience also includes time as Chef and Nutrition Educator for the Cooking Matters program run out of America's largest food bank Care & Share, which allowed her to combine her skills in kitchen education and food knowledge. Marie is from Bayswater, Western Australia. "I am thrilled to be a part of the team to deliver Jamie's Ministry of Food for the first time to the people of Western Australia. We can't wait to welcome the first batch of participants into our mobile kitchen at ECU's Joondalup campus," said Marie.
Katherine Cornish, Full Time food trainer, is a qualified cook with experience working in a range of kitchens. Katherine's passion is about cooking fresh, healthy and low-budget meals, as well as sharing her knowledge with others. Possessing a background focused on health promotion and the improvement of individuals' health via consumption of a nutritious and balanced diet, Katherine is perfectly suited to undertake the role of food trainer with Jamie's Ministry of Food. Katherine comes from Armadale, Western Australia
Alex Taucher who is taking up a full time Food Trainer role, knows her way around a kitchen. Alex has a firm understanding of teamwork and is an accredited practicing dietician, most recently working in a holistic health care private practice, Alex has spent time educating clients about chronic medical conditions and encouraging healthy lifestyle practices. A great affinity for helping people and enthusiasm for food, cooking and education is what brought Alex to Jamie's Ministry of Food where she will hold the role of food trainer on the Mobile Kitchen in Western Australia. Alex hails from Cottesloe, Western Australia
Filling a part time food trainer role. Lexi Costello has extensive experience in a range of industries providing her with varied skills and the ability to work with different groups of people, all key ingredients for her new role with Jamie's Ministry of Food. Lexi's passion lies with re-igniting the excitement in food and eating and is looking forward to the opportunity to reconnect people with food through her work with Jamie's Ministry of Food. Lexi lives in Doubleview, Western Australia
The Good Foundation is a not-for-profit organisation which has partnered with Jamie Oliver and principal partner, Woolworths to deliver Jamie's Ministry of Food throughout Australia.
The Good Guys, founding partner of Jamie's Ministry of Food Australia, is proud to support the program which is helping to build healthier and happier communities.