Prime Minister Gillard and more support Jamie's Food Revolution Day
16 May 2013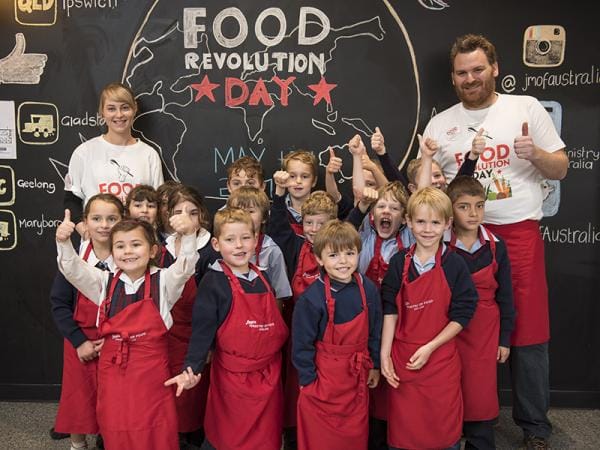 JAMIE IS CALLING FOR AUSTRALIANS TO PARTICIPATE IN HIS ANNUAL FOOD REVOLUTION DAY, TAKING PLACE THIS FRIDAY 17TH MAY IN AN EFFORT TO CREATE MORE AWARENESS OF REAL FOOD AND FOOD EDUCATION. FOOD REVOLUTION DAY IS A MOVEMENT THAT ALLOWS PEOPLE WHO LOVE FOOD TO COME TOGETHER TO SHARE INFORMATION, TALENTS AND RESOURCES AND ALSO TO PASS ON THEIR KNOWLEDGE AND BRING FOOD SKILLS TO LIFE, ALL IN AN EFFORT TO IMPROVE LONG TERM HEALTH.
While Jamie is the driving force inspiring millions around the world to join the Food Revolution, he is just one man and needs everyone's help to drive this real food movement forward. A number of well-known Australians have stepped forward to show their support of his cause including Prime Minister Julia Gillard, Matt Preston and Shane Warne.
Jamie's global crusade is growing and the message now reaches communities all around the world. Food Revolution Day aims to raise awareness and ultimately funds, for Jamie's Foundation's projects, with Jamie's Ministry of Food being the focus in Australia. The Good Guys partnered with Jamie Oliver, to bring Jamie's Ministry of Food to Australia in 2010 and now has four kitchens operating around the country, with plans to grow.
Videos from the following Food Revolution Day supporters can be seen via the following links.
Julia Gillard – Prime Minister – http://youtu.be/g5GFo5tsulA
Jamie Oliver – Jamie's personal thankyou video to Prime Minister Gillard – http://www.jamieoliver.com/newsand-blogs/australian-pm-supports-frd/
David Davis – Victorian Minister for Health – http://youtu.be/8bKdn-IO-f8
Lawrence Springborg – Queensland Minister for Health – http://www.youtube.com/watch?v=qaNhuthiAc&feature=youtu.be
Shane Warne – Australian Cricketer – http://youtu.be/dw141mndClM
Matt Preston – MasterChef – http://youtu.be/EkLQawABpvs
Ian Curley – Executive Chef The European & Ministry of Food Ambassador – http://youtu.be/UtePL7X-AnY
Mark Olive – Chef and Jamie's Ministry of Food Ambassador – http://youtu.be/IZf09bjvwcA
Anna Gare -Jamie's Ministry of Food Ambassador TBC – http://youtu.be/Pu-nB6eHMZ4
Examples of Food Revolution Day events and activities across Australia include.
Cooking focused activities in The Good Guys stores nationally (98 stores).
Melbourne's Royal Children's Hospital hosting cooking demonstrations and kids' activities
A cook-off at Guilford Primary School in Perth
A soup recipe challenge for bloggers around the country
A Food Swap event at Jamie's Ministry of Food Geelong
A 'The Love Real Food Picnic' at Centennial Park Sydney
Sodexo cooking demonstrations and Food Revolution Day special menus
For additional information and requests for Food Revolution Day supporter video files, please contact:
Camilla Speirs, PR Manager, Jamie's Ministry of Food Australia
E: CamillaSpeirs@thegoodfoundation.com.au M: 0409 359 339