Noarlunga has all the ingredients for first ever Jamie's Ministry of Food pop-up
26 Nov 2014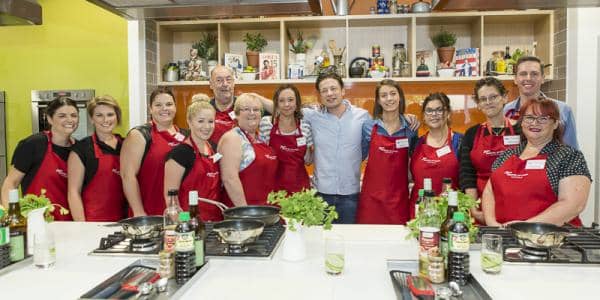 JAMIE'S MINISTRY OF FOOD FIRST EVER POP-UP KITCHEN WILL BEGIN TAKING BOOKINGS ON DECEMBER 4, 2015 WITH CLASSES DUE TO COMMENCE IN JANUARY. DURING HIS AUSTRALIAN TOUR EARLIER THIS YEAR, JAMIE OLIVER ANNOUNCED COLONNADES SHOPPING CENTRE AND THE CITY OF ONKAPARINGA AS THE HOSTS FOR THE FIRST OF ITS KIND POP-UP KITCHEN.
"In March this year we put the call out to Australia to nominate their community to host a Jamie's Ministry of Food Pop-up Centre for 12 months with thanks to Huon. I was hugely impressed by all the entries but I'm delighted that Colonnades Shopping Centre and the City of Onkaparinga entered and won – congratulations guys! Now their kitchen is ready for classes which is fantastic. What Ministry of Food does is simple; we teach people the basics of cooking and give them the confidence and support to improve their health through making good choices." says Jamie.
Jamie's Ministry of Food pop-up kitchen will offer classes six days a week with weekend and evening classes available. Participants will experience hands on lessons with a dedicated Food Trainer and can take home the meals they prepare to share with family and friends. Classes cost just $10 per session and $5 for concession. Bookings are now open through www.jamiesministryoffood.com
Providing a cost effective way to reach everyone in communities is at the heart of what Jamie's Ministry of Food kitchens do and this would not be possible without the generosity of corporate support. The first Jamie's Ministry of Food Pop-up is supported by Huon Aquaculture who are passionate supporters of healthy communities.
Huon Aquaculture Executive Director and Co-founder, Frances Bender said, "We're really excited to see the first ever Jamie's Ministry of Food Pop-Up Kitchen ready to go. We've seen first-hand the amazing work Jamie's Ministry of Food is doing around the country and to be able to help bring the program to South Australia is something we're really proud to be a part of."
Winning entrants, Colonnades Shopping Centre and the City of Onkaparinga, jointly applied for the kitchen and say of their win;
The Pop-Up kitchen has huge potential to improve the health and eating habits of many people in our community, by encouraging them to buy and use the fantastic produce grown right here in our backyard. The location at Colonnades is ideal not only for Onkaparinga residents, but for anyone in Adelaide who can simply catch a train to Noarlunga Centre then walk just a short distance to the Pop Up kitchen. We again wish to thank the thousands of community members and businesses who supported our bid and both council and Colonnades will continue to work together to maximise the long term benefits of the program across our communities.
The Ministry of Food program has already proved successful in Australia running classes at the fixed centres in Ipswich and Geelong and the Mobile Kitchen's, which travel throughout Queensland and Victoria. Jamie's Ministry of Food will also open the first NSW centre at Wetherill Park later in the year.
A recent evaluation, conducted by Deakin University and University of Melbourne has shown that participants who complete the back to basics home cooking skills program, increased their vegetable consumption and changed their cooking confidence and cooking and eating behaviours. Participants were more confident in cooking meals from scratch, purchased and consumed more vegetables and spent less on take away foods. This was sustained for 6 months after completing the course.
To register as a volunteer or to receive additional information about becoming a volunteer with Jamie's Ministry of Food pop-up kitchen at Colonnades Shopping Centre, please email jmofnoarlunga@thegoodfoundation.com.au or phone 03.9282.9100.
For bookings and additional information about Jamie's Ministry of Food Australia, visit www.jamiesministryoffood.com
Jamie's Ministry of Food Pop-up
Colonnades Shopping Centre
Ramsay Place, off Beach Road, Noarlunga SA 5168
Email: jmofnoarlunga@thegoodfoundation.com.au
About the Jamie's Ministry of Food program…
Jamie's Ministry of Food is a practical solution to the problems associated with diet-related disease. The community-focused program aims to inspire people to get back to basics in the kitchen. It's about teaching people to start cooking for themselves once again and equipping them with some simple skills and knowledge. The program inspires and empowers change in the way they and their families eat, and how they think about food. Jamie's Ministry of Food is about addressing the big health issues facing the nation through a common sense approach that is simple and effective.
For media enquiries, please contact: Camilla Speirs e:camillaspeirs@thegoodfoundation.com.au M: 0409 359 339