Mossman Gorge the second Aboriginal community to host Jamie's Ministry of Fos
02 May 2016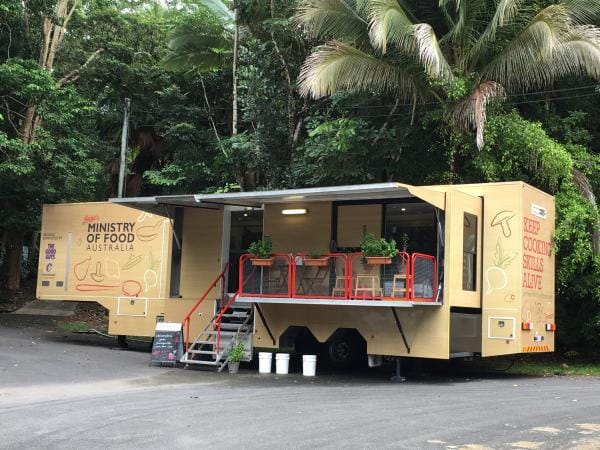 JAMIE'S MINISTRY OF FOOD MOBILE KITCHEN IS SET TO VISIT MOSSMAN GORGE FOR THE FIRST TIME. INCREASING THE QUEENSLAND FOOTPRINT, MOSSMAN GORGE IS THE SECOND ABORIGINAL COMMUNITY AND THE 15TH QUEENSLAND STOP FOR THE KITCHEN CLASSROOM ON WHEELS. FOLLOWING HUGE SUCCESS IN PREVIOUS LOCATIONS INCLUDING CHERBOURG, THE MOBILE KITCHEN WILL BE IN MOSSMAN GORGE DELIVERING HANDS-ON BASIC COOKING CLASSES FROM JUNE 2016.
People living in and around Mossman Gorge will have the opportunity to access and participate in an innovative, community-based cooking program built on Jamie's beliefs about cooking and the associated impact on healthy living. Jamie's Ministry of Food Australia Mossman Gorge program will be delivered by The Good Foundation with support from Apunipima Cape York Health Council and Mossman Gorge's governing body Bamanga Bubu Ngadimunku.
Mossman Gorge resident Matthew Gibson said he was excited about the program coming to his community. "It is exciting to have Jamie's Ministry of Food program coming to Mossman Gorge. It is a good opportunity to focus on healthy food and have education for families around healthy eating."
Apunipima's Nutrition team, who have assisted in getting the Ministry of Food's Mobile Kitchen to the Gorge, support the program's back to basics message. "Good nutrition is a key ingredient to grow healthy families and communities," Apunipima Community Nutritionist Kirby Murtha said. "The Ministry of Food program is a really positive and exciting way to build people's cooking skills and nutrition knowledge, which is an essential step in Closing the Gap."
Following numerous requests from Aboriginal and Torres Strait Islander communities across the country, The Good Foundation, which delivers Jamie's Ministry of Food Australia, has developed a modified program specifically for Aboriginal and Torres Strait Islander communities with a view of addressing rising rates of diet-related disease in Australia.
Jamie's Ministry of Food is a practical solution to the problems associated with diet-related disease. The community-focused program aims to inspire people to get back to basics in the kitchen. It's about sharing ideas to assist families to prepare meals at home and develop additional cooking skills and nutrition knowledge. The program inspires and empowers change in the way they and their families eat, and how they think about food.
Latest data from the Queensland Health Preventive Health Survey (2015) shows that after a decade of rising rates of obesity, the prevalence appears to have plateaued. Although this is good news, overweight and obesity still remains a critical health issue in Queensland where 26% of children and 64% of adults are overweight or obese. More than two-thirds (70%) of Aboriginal and Torres Strait Islander adults in Queensland are overweight or obese and are 12% more likely to be overweight or obese compared to non-Indigenous Queenslanders.
Jamie's Ministry of Food Australia has been proven to work. A comprehensive evaluation, conducted by Deakin University and University of Melbourne, and funded by Queensland Health, showed that participants who complete the cooking course, gained new cooking skills and food knowledge, were more confident in cooking meals from scratch, purchased and consumed more vegetables and spent less on take away foods. The program also had some flow on benefits in bringing families together to the share a meal around the table. The research showed these behaviour changes were sustained six months after completing the course.
The program includes Jamie's hints, tips and shortcuts for preparing food from scratch using fresh ingredients which is of particular importance with only 9% of adults and 6% of children in Queensland consuming the recommended vegetable serves daily.
Elise Bennetts, Acting CEO, Jamie's Ministry of Food Australia said, "Following the successful feedback from the launch of our Aboriginal and Torres Strait Islander program in Cherbourg, we are excited to be visiting Mossman Gorge with the support of Apunipima Cape York Health Council and Bamanga Bubu Ngadimunku. After consultation with the community, we have shaped the program to fit the needs of the local residents and are delighted to be rolling the Mobile Kitchen into location for 5 weeks from June."
Led by a team of dedicated Food Trainers and local volunteers, Jamie's Ministry of Food is a fun and engaging program that fosters a sense of community and social connectedness.
Where is the Mobile Kitchen located? On Mossman Gorge Road, Mossman Gorge, QLD
When do classes begin? Classes begin on 13th June concluding on 16th July
How long is the course? One 90 minute class per week for five weeks
How much does it cost? Classes cost $2 per session ($10 for the five week course)
Who do I contact to become a volunteer? E-mail volunteer@thegoodfoundation.com.au
The Good Foundation is a not-for-profit organisation which has partnered with Jamie Oliver and principal partner, Woolworths to deliver Jamie's Ministry of Food throughout Australia. Queensland Health has committed funding to The Good Foundation to support the delivery of the program state wide in Queensland. Stockland has commenced a local partnership with Jamie's Ministry of Food Mobile Kitchen program in Queensland.
For Jamie's Ministry of Food media enquiries please contact:
Camilla Speirs m: 0409 359 339 e: camillaspeirs@thegoodfoundation.com.au
For Queensland Health media enquiries please contact:
p: (07) 3234 1439 e: news@health.qld.gov.au
For Apunipima Cape York Health Council and Bamanga Bubu Ngadimunku media enquiries, please contact:
Emma Pickering: p: 07 4037 7244 or 0439 269 288 e: communications@apunipima.org.au