Jamie's Ministry of Food WA Mobile Kitchen heads South to Albany
14 Nov 2016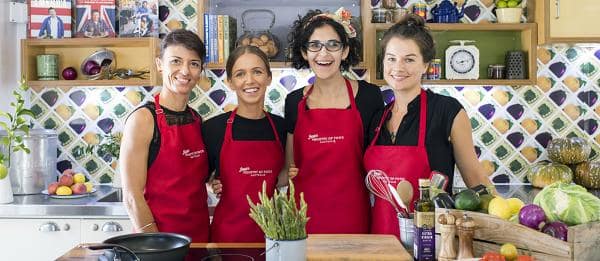 The visit to Albany forms part of a three-year partnership between The Good Foundation, which delivers Jamie's Ministry of Food across Australia, and Edith Cowan University (ECU) in bringing this program to Western Australia.
Bookings open on 12th December 2016 with classes commencing on 16th January 2017 and running for five weeks.
An innovative, community based cooking program, based on Jamie's beliefs about cooking and the associated impact on healthy living, the program teaches Jamie's hints, tips and basic home cooking skills in an effort to encourage people to cook from scratch with fresh food. This is of particular importance given that about one-quarter of all deaths in Australia are the result of diet related disease and one in four people in Australia are currently overweight or obese.
Research shows that only 1 in 10 of Western Australian residents eat the recommended daily serves of fruit and vegetables and two-thirds of WA adults are now overweight or obese.
Felicia Mariani, CEO The Good Foundation and Jamie's Ministry of Food says of the program, "Jamie's Ministry of Food is a fun and engaging program that speaks directly to this serious issue facing our society. We believe that cooking is a life skill which should be accessible to everyone, regardless of who you are or where you might live. Importantly, we've seen that our program also serves to foster a real sense of community and social connectedness.
"We are proud to be delivering this program with vital support from ECU and are looking forward to rolling out Jamie's Ministry of Food to the people of Albany and surrounds," she said.
Jamie's Ministry of Food achieves measurable health and wellbeing outcomes for participants by inspiring and empowering them to change in the way they and their families eat, and how they think about food.
Jamie's Ministry of Food has been proven to work. A comprehensive evaluation, conducted by Deakin University and University of Melbourne showed that participants who complete the cooking course, gained new cooking skills and food knowledge, were more confident in cooking meals from scratch, purchased and consumed more vegetables and spent less on take away foods.
ECU Deputy Vice-Chancellor (Strategic Partnerships) Professor Cobie Rudd said, "The Ministry of Food program has been embraced by local communities at its previous locations in the Perth metropolitan area as well as Bunbury. ECU is really looking forward to helping bring a range of benefits to Albany, including prevention of chronic disease through healthier eating as well as developing social connections and social inclusion that builds individuals' confidence and, in turn, strengthens communities."
Jamie's Ministry of Food Mobile Kitchen will deliver hands-on basic cooking classes led by a team of dedicated Food Trainers. While at in Albany, Jamie's Ministry of Food will run with the support of local volunteers.
The course is open to people aged 12 years and over, who want to learn the basics of cooking and have fun in the kitchen!
Where is the Mobile Kitchen located? Child and Parent Centre – Mount Lockyer Humphreys Street, Albany, WA 6330
When do classes begin? Monday 16th January 2017
How long is the course? One 90-minute class per week for five weeks
How much does it cost? Classes cost $20 per session, $15 for student card holders and $10 for concession.
When do bookings open? 12th December 2016 via www.jamiesministryoffood.com
The Good Foundation is a not-for-profit organisation which has partnered with Jamie Oliver and principal partner, Woolworths to deliver Jamie's Ministry of Food throughout Australia. The Good Guys, founding partner of Jamie's Ministry of Food Australia, is proud to support the program which is helping to build healthier and happier communities.
For Jamie's Ministry of Food media enquiries please contact:
Camilla Speirs
m: 0409 359 339
e: camillaspeirs@thegoodfoundation.com.au