Jamie's Ministry of Food WA Mobile Kitchen heading to Bunbury
24 May 2016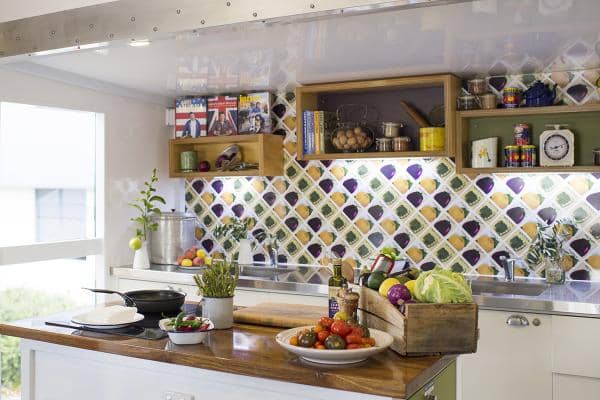 AFTER A SUCCESSFUL LAUNCH AT EDITH COWAN UNIVERSITY'S JOONDALUP CAMPUS AS PART OF A THREE YEAR PARTNERSHIP, JAMIE'S MINISTRY OF FOOD WEST AUSTRALIAN MOBILE KITCHEN IS MAKING A MOVE WITH THE NEXT STOP PLANNED FOR BUNBURY. THE KITCHEN CLASSROOM ON WHEELS WILL SET UP SHOP AT ECU'S SOUTH WEST CAMPUS IN JULY WHERE IT WILL CONTINUE TEACHING BASIC HOME COOKING SKILLS TO WEST AUSTRALIANS.
Jamie's Ministry of Food is Jamie Oliver's home cooking program which teaches people to cook from scratch using fresh food. Delivering hands-on basic cooking classes led by a team of dedicated Food Trainers, the Mobile Kitchen program offers a 7 week cooking course.
Each course is comprised of one 90-minute cooking class per week with up to 12 participants in each class. While in WA, the program will run with the support of ECU students, interns and volunteers.
"ECU is supporting this program because we believe in making our communities healthier, more sustainable and prosperous. We are also excited about the industry experience and research opportunities this partnership offers our students and staff," said ECU Vice-Chancellor Professor Steve Chapman.
Jamie's Ministry of Food, delivered by The Good Foundation, achieves measurable health and wellbeing outcomes for participants by inspiring and empowering them to change in the way they and their families eat, and how they think about food.
Research shows that only 1 in 10 West Australian residents eat the recommended daily serves of fruit and vegetables and 66.6% of adults are overweight or obese.
Jamie's Ministry of Food Australia has been proven to work. A comprehensive evaluation, conducted by Deakin University and University of Melbourne showed that participants who complete the cooking course, gained new cooking skills and food knowledge, were more confident in cooking meals from scratch and purchased and consumed more vegetables and spent less on take away foods. The program also instigated flow on benefits in the form of bringing families together to the share a meal around the table. The research showed these behaviour changes were sustained 6 months after completing the course.
Bookings open on Tuesday 24th May
Classes start on Monday 18 July
Classes cost $20 per session, $15 for student card holders and $10 for concession.
The Mobile Kitchen will be located at Edith Cowan University – Bunbury Campus 585 Robertson Drive, College Grove
By visiting www.jamiesministryoffood.com and booking into a course now, residents of Western Australia can access the innovative, community based cooking program based on Jamie's beliefs around the associated benefits of cooking fresh food from scratch.
After its time at Bunbury, Jamie's Ministry of Food West Australian Mobile Kitchen will make its way to other ECU campuses yet to be announced. Jamie's Ministry of Food is also working with ECU to make various community visits including plans to work with Aboriginal communities.
The Good Foundation is a not-for-profit organisation which has partnered with Jamie Oliver and principal partner, Woolworths to deliver Jamie's Ministry of Food throughout Australia. The Good Guys, founding partner of Jamie's Ministry of Food Australia, is proud to support the program which is helping to build healthier and happier communities.
For media enquiries regarding Jamie's Ministry of Food West Australian Mobile Kitchen, please contact:
Marie Fitzpatrick
Jamie's Ministry of Food West Australian Mobile Kitchen Manager
e: mariefitzpatrick@thegoodfoundation.com.au
m: 0448.801.298