Jamie's Ministry of Food program proven to work!
12 Nov 2015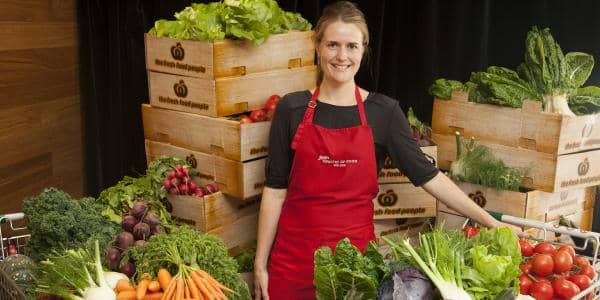 AS JAMIE'S MINISTRY OF FOOD CELEBRATES THREE YEARS SINCE OPENING THE DOORS IN GEELONG, A NEW EVALUATION OF JAMIE OLIVER'S HOME COOKING SKILLS PROGRAM SHOWS IT IS PROVEN TO WORK AND EFFECTIVE IN ACHIEVING LONG TERM BEHAVIOUR CHANGE RELATING TO PREPARATION AND CONSUMPTION OF FOOD.
Recent results from Deakin and Melbourne University's research of Victorian participants show that Jamie's Ministry of Food resulted in positive sustained impacts in participants cooking confidence; and healthy eating behaviours, including increased fruit and vegetable consumption and a decrease in the consumption of fast food.
Jamie Oliver said of the new research results, "I'm thrilled with the fantastic new research results, which have simply proved that by inspiring and educating people about food and how to cook it, we can help people be healthier and, ultimately, happier as a result.
Students at our Ministry of Food kitchens in Australia are eating more veggies and fewer takeaways as a direct result of our course and that makes me unbelievably proud. This is the second time our brilliant Ministry of Food programme has shown to make people's lives better through good, fresh, nutritious food, which can only have a positive impact on how they choose to eat, cook and nourish themselves and their families."
Jamie's Ministry of Food Geelong has seen over 5000 participants through the doors with many and varied stories of change and positive health and life impact. The new research results show that Geelong's residents are consuming an additional 2,500 cups of vegetables each day as a direct result of participation in the Jamie's Ministry of Food course.
The Good Foundation and the Victorian Government commissioned the evaluation with the aim of exploring the impact and participants' experiences of the program. These latest findings are consistent with and reinforce research results released late last year from a study conducted with Queensland participants.
Jamie's Ministry of Food was delivered to 12 communities across Victoria between 2012 and 2015 as part of a State Government of Victoria funded initiative, Healthy Together Victoria. The program in Victoria was evaluated by a team comprising researchers from Deakin and Melbourne universities, who conducted the earlier evaluation of the program in Ipswich, Queensland between 2011 and 2014.
The research results show positive sustained impacts in cooking confidence; and healthy eating behaviours as well as improved self-efficacy in their ability to prepare a healthy meals quickly and inexpensively for their families.
The Victorian evaluation found that:
The program had a positive increased effect on participants' cooking confidence and resulted in improvements in participants' beliefs in their ability to prepare meals quickly and cheaply.
Participants increased their fruit and vegetable consumption. Six months after completing the 5 week mobile kitchen program, participants were consuming almost one serve more vegetables (0.81 serves per day more) compared with the Victorian state wide average of 2.24 serves per day. Participants were also consuming over half a serve more fruit per day (0.61 serves per day more) compared with the Victorian state wide average of 1.62 serves per day.
Participants were found to achieve a significant decrease in their frequency of eating take-away and fast food. The long term impact was investigated and the results showed this behaviour change was sustained six months after completion of the program.
Participants made positive improvements over time relating to cooking attitudes, knowledge, behaviours and food purchasing behaviours.
The evaluation results are further evidence of the effectiveness of Jamie's Ministry of Food program and its ability to change behaviour by giving people the practical skills to implement nutrition advice and dietary guidelines.
The increase in vegetable intake is a particularly important finding in light of current trends in declining vegetable intake across Australia. There is growing evidence of the protective benefit of increased vegetable intake for the prevention of certain diseases such as coronary heart disease and stroke. Research conducted by VicHealth has shown that if Australian's ate an additional serve of vegetables per day, health care costs would be reduced by $35 million per annum, or by $71 million per annum if the increase was an additional two serves per day.
The ability of the program to decrease takeaway consumption in participants for the long term, a change that typically results in a decrease of salt and fat intake, also offers further benefits to the nation's health and health budget.
Jamie's Ministry of Food, delivered by The Good Foundation a not-for-profit organisation which has partnered with Jamie Oliver and principal partner, Woolworths, to deliver Jamie's Ministry of Food throughout Australia.
For additional information and to view the full report, please visit www.jamiesministryoffood.com