Jamie's Ministry of Food Mobile Kitchen to cook up a storm in Logan
19 Nov 2015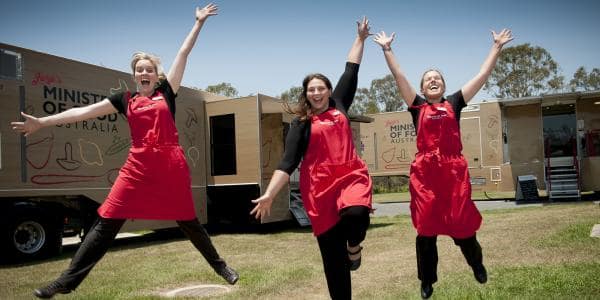 MEDIA RELEASE:
Following huge success during previous visits to the Logan area, Jamie's Ministry of Food Mobile Kitchen is set to return to Logan City Council in the New Year. The Mobile Kitchen will be in Logan Central from January for ten weeks, located at Beenleigh Town Square, James Street, Beenleigh, Queensland 4207. Local residents will have the opportunity to access and participate in an innovative, community based cooking program built on Jamie's beliefs about cooking and the associated impact on healthy living.
Classes begin on Monday 11th January 2016 concluding in March. While in Logan, Jamie's Ministry of Food Mobile Kitchen will deliver two cycles of the five-week cooking course to the local community. With classes running from Monday through to Saturday each week there are a variety of times available with up to four classes held each day.
The Mobile Kitchen program offers a five-week cooking course, comprising one 90-minute cooking class per week with up to 12 participants in each class. Jamie's Ministry of Food Mobile Kitchen will deliver hands-on basic cooking classes led by a team of dedicated Food Trainers.
Jamie's Ministry of Food Australia is delivered by The Good Foundation and supported by Logan City Council.
Logan City Council Mayor, Pam Parker said the courses had proved to be hugely successful and had led to better eating habits for many families.
"It's a great initiative that teaches that good, healthy fresh food can be prepared inexpensively with the right know how," she said. "There's no doubt many Logan families will benefit from this program, as they have from the past courses run in the city."
Jamie's Ministry of Food Australia has been proven to work. A comprehensive evaluation, conducted by Deakin University and University of Melbourne showed that participants who complete the cooking course, gained new cooking skills and food knowledge, were more confident in cooking meals from scratch, purchased and consumed more vegetables and spent less on take away foods. The program also had some flow on benefits in bringing families together to the share a meal around the table. The research showed these behaviour changes were sustained 6 months after completing the course.
"The program includes Jamie's hints, tips and shortcuts for preparing food from scratch using fresh ingredients which is of particular importance with only approximately 7% of the population eating the recommended daily serve of vegetables so our program teaches people how to incorporate more fresh food into their diets," said Elise Bennetts, Acting CEO, Jamie's Ministry of Food Australia and The Good Foundation.
Jamie's Ministry of Food is a practical solution to the problems associated with diet-related disease. The community-focused program aims to inspire people to get back to basics in the kitchen. It's about teaching people to start cooking for themselves and equipping them with some simple skills and knowledge. The program inspires and empowers change in the way they and their families eat, and how they think about food.
A fun and engaging program that fosters a sense of community and social connectedness, the program achieves measurable health and wellbeing outcomes for participants. Cooking is a life skill which should be accessible to all.
Classes cost $20 per session, $15 for student card holders and $10 for concession. Bookings are open now and can be booked through www.jamiesministryoffood.com
The Good Foundation is a not-for-profit organisation which has partnered with Jamie Oliver and principal partner, Woolworths to deliver Jamie's Ministry of Food throughout Australia.
Queensland Health has committed funding to The Good Foundation to support the delivery of the program in Queensland.