Jamie's Ministry of Food celebrates first time in indigenous community
10 Sep 2015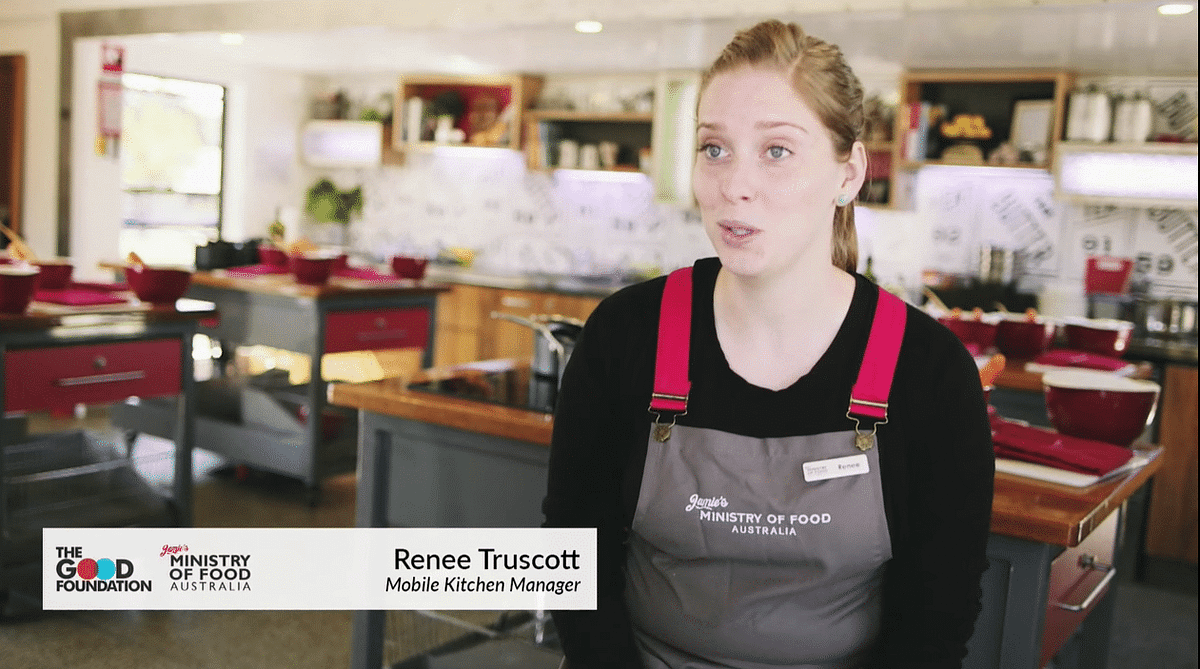 Jamie's Ministry of Food Queensland Mobile Kitchen recently rolled out Jamie Oliver's home cooking program in an Indigenous community for the first time. The Good Foundation was pleased to work in partnership with the Cherbourg community and with funding from the Queensland Government, Department of Health to deliver the five week cooking program which is aimed at teaching Jamie's basic cooking skills.
Starting in July, The Ministry of Food team delivered a five week program to an enthusiastic Cherbourg community, Local residents had the opportunity to access and participate in an innovative, community-based cooking program built on Jamie's beliefs about cooking and the associated impact on healthy living.
"Ever since we started the journey in Aus, the goal has been to get the Mobile Kitchens out to regional communities so we can help get more Aussies cooking from scratch again with loads of great fresh produce. My team worked closely with the community leaders and I'm so proud of the results – check out the video to see proof of how the Cherbourg locals loved learning new cooking skills and how to cook better for their families," said Jamie Oliver.
The Good Foundation, which delivers Jamie's Ministry of Food Australia, developed the program with a view to addressing rising rates of diet related disease in Australia. Consulting with the local community, including Cherbourg Council, Cherbourg Community Health and local elders in the lead up to the visit, the Foundation adapted the program to local needs to ensure its success.
"It was a rewarding experience for our staff to work collaboratively with community Elders, Cherbourg Community Health and Cherbourg Council to adapt our program to local needs and ensure it was relevant and engaging for the broader community. It was important for us to engage in discussions around food supply issues and learn about traditional foods so we could teach recipes that would work for local families and be enjoyed by everyone." said Elise Bennetts, Acting CEO, Jamie's Ministry of Food and The Good Foundation.
While in Cherbourg, the program welcomed 186 participants on board the Mobile Kitchen who learned Jamie's hints, tips and shortcuts. Participants included young and old, men and women, all of whom were eager to learn new ways to cook and prepare healthier food for friends and family. Recipes such as Jamie's good old Chile Con Carne and Pukka Yellow Curry with spinach, lemon and garlic were prepared and loads of fresh ingredients were used including 1,056 Eggs, 224 Yellow Capsicums and 26.4kg of Spinach.
Participants who completed the course in Cherbourg advised that as a result of the program their confidence to cook meals at home and to try new foods increased. Participants also reported they have been sharing what they learnt in the program and cooking meals at home based on what was taught in the course.
This comes as no surprise to the team at Jamie's Ministry of Food given the results of a 3 year evaluation of the program funded by Queensland Health and conducted by Deakin University and University of Melbourne. This evaluation showed that participants who complete the back to basics home cooking skills program, increase their vegetable consumption and change their cooking confidence and cooking and eating behaviours. After taking the course, participants were more confident in cooking meals from scratch, purchased and consumed more vegetables and spent less on take away foods. This was sustained for 6 months after completing the course.
As Australia's third largest Aboriginal community, The Australian Bureau of Statistics lists Cherbourg as the second most disadvantaged community in Queensland with a SEIFA index of 555.7. The annual financial cost of obesity in Australia has been estimated at AUD$8.3 billion with an additional AUD$49.9 billion in the form of lost wellbeing, bringing the combined cost of obesity to AUD$58.2 billion. Unfortunately the situation is even more acute for Australia's Aboriginal community. Aboriginal Australians have a lower life expectancy and suffer poorer health outcomes than non-Aboriginal Australians. Aboriginal Queenslanders are also 12% more likely to be overweight or obese compared with non-Aboriginal Queenslanders.
The Mobile Kitchen five-week cooking course comprises one 90-minute cooking class per week with up to 12 participants in each class. Participants take home a freshly cooked meal for friends or family at the end of each class.
The Good Foundation is a not-for-profit organisation which has partnered with Jamie Oliver Limited to deliver Jamie's Ministry of Food throughout Australia. Jamie's Ministry of Food Australia is supported by principal partner, Woolworths and across Queensland by the Queensland Government, Department of Health.
For bookings and more information on Jamie's Ministry of Food visit www.jamiesministryoffood.com
MEDIA RELEASE:
Check out Jamie's video here…..https://youtu.be/PXfla-2irvA