Jamie's Ministry of Food Australia announce inaugural food partnership
24 Sep 2013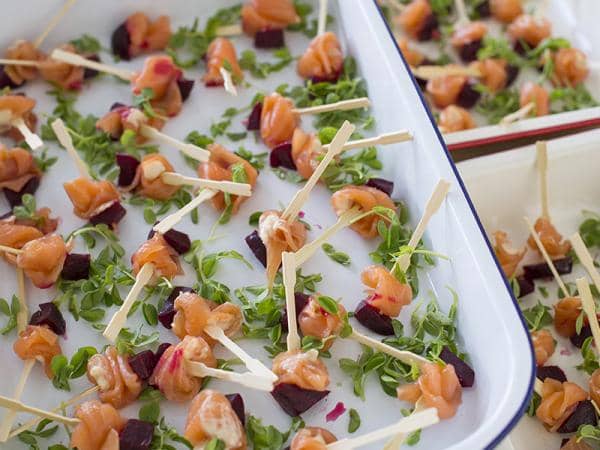 JAMIE'S MINISTRY OF FOOD AUSTRALIA AND THE GOOD FOUNDATION, TODAY PROUDLY ANNOUNCES THEIR FIRST FOOD PARTNERSHIP WITH THE TASMANIAN ATLANTIC SALMON PRODUCER, HUON AQUACULTURE.
Based on the Huon River, Hideaway Bay, and known for producing some of the finest salmon in the world, Huon Aquaculture are renowned for quality product, setting the bar for industry standards and best practice ensuring they produce 'The World's Most Loved Salmon.'
Jamie's Ministry of Food Centres will receive deliveries of Huon salmon the same day course participants learn to cook Jamie's Teriyaki Glazed Salmon. The much loved Huon salmon will arrive having been freshly harvested the day prior from the pristine waters of Tasmania. Jamie's Ministry of Food participants will use 7360 salmon portions per annum.
"Huon Aquaculture and Jamie's Ministry of Food Australia have partnered in order to teach Australians about the health benefits of fish and how simple it is to cook. We believe in Huon and its practices so much that we sent our Food Trainers to Tasmania to experience the water to plate cycle of Huon Salmon in person. This invaluable knowledge will now be passed down to our participants." Stated Alicia Peardon, CEO, Jamie's Ministry of Food Australia.
Led by a team of dedicated Jamie's Ministry of Food Trainers, participants will learn Jamie's hints, tips and short cuts for cooking fish. The Salmon class forms an integral part of the Ministry of Food cooking course in Australia and is just one of the lessons that teaches people to cook from scratch using fresh ingredients.
"Fresh, simple salmon is one of the tastiest and fastest foods around and learning how to cook our healthy salmon is made even easier for the lucky people who participate in a Jamie's Ministry of Food cooking course. My advice is that once you learn that Huon salmon is so simple and easy to cook, you'll never look back, you'll have a stack of fast, healthy meals at your fingertips to wow yourself, your family and friends," said Frances Bender, Director and Co-Owner of Huon Aquaculture.
Jamie's Ministry of Food Australia teaches basic cooking skills through courses delivered in Queensland and Victoria, supported by state government. The program is a practical solution to the problems of obesity and diet-related disease and aims to inspire people to get back to basics in the kitchen, empowering them to change the way they and their families eat, and think about food.
"Cooking from scratch and being educated about where food is produced and how to cook it is a vital life skill. Our classes provide participants with not only hands on experience but valuable food knowledge and nutritional benefits of different food groups," says Jamie Oliver.
Jamie's Ministry of Food helps people gain confidence in the kitchen leading to better food and ultimately better health. The partnership with Huon Aquaculture supports Jamie's Ministry of Food key principals, which revolve around cooking from scratch with fresh local produce.
The Good Foundation is a not-for-profit organisation which has partnered with Jamie Oliver and Electrical Retailer, The Good Guys to deliver Jamie's Ministry of Food throughout Australia.
-END
For Jamie's Ministry of Food media enquiries please contact:
Camilla Speirs M: 0409 359 339 E: camillaspeirs@thegoodfoundation.com.au
For Huon Aquaculture media enquiries please contact:
Jane Gallichan M:0400 159 664 E; jgallichan@huonaqua.com.au