Jamie's Food Crusade reaches Geelong
04 Oct 2012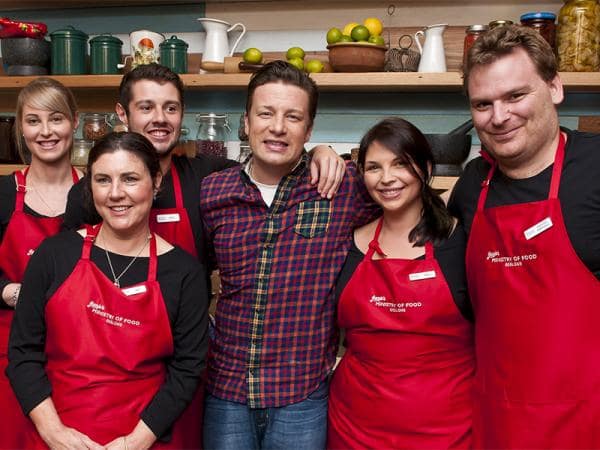 JAMIE OLIVER'S MINISTRY OF FOOD, THE FIRST VICTORIAN CENTRE, OPENED ITS DOORS IN GEELONG TODAY. AN EXCITED JAMIE COULDN'T MAKE IT IN PERSON, YET HE WAS THERE IN VIRTUAL SPIRIT AND SENT A HUGE SHOUT- OUT TO THE GEELONG COMMUNITY VIA VIDEO MESSAGE.
"This is our second Ministry of Food Centre in Australia and our first in Victoria and it's just so exciting. The Ministry of Food Centre is absolutely for the whole community, the whole town. It's for family and friends, no matter what your age or background."
"The original Ministry of Food was established during the Second World War, to provide the population with help and advice, through putting cooks out in the community, ensuring that people knew how to feed themselves properly. The period saw a dip in the numbers suffering from diet related problems. Our Ministry of Food is a modern day version of just that," Jamie said.
Jamie's goes on to say, "One thing I've learnt over the years, in countries like Australia, is that people really want good advice, they want help and tools to make to better food choices."
Jamie's Ministry of Food Geelong aims to inspire, empower and educate people about good food. The Centre will offer a 10 week basic cooking course, comprising of one 90 minute cooking class per week. Each class has up to 15 participants and are completely hands on so participants get to see, smell, feel and taste everything they cook.
Participants gain the skills and knowledge in not only how to cook, but they also learn to how to shop, budget and plan meals for the whole family, using fresh local seasonal produce.
Jamie's Ministry of Food Ambassador and Executive Chef, Ian Curley officially launched the Centre in Jamie's absence, together with Victorian Minister for Health David Davis.
"This program has got the ability to really make a difference to the people who need it most. The people of Geelong are the first in Victoria to benefit from this initiative but there is more to come. Jamie genuinely cares about the health and happiness of this generation and our future ones to come. He doesn't have to, yet he does," says Ian.
"The design of the kitchen pays homage to Geelong, more specifically to its port and rich industrial heritage. The Centre is the community hub for Victoria, so materials have been sourced from all corners of the state. For example, the beams come from a retired Gippsland bridge and the timber bench top from the Tottenham RAAF base which originated during the period when the original Ministry of Food began, during the Second World War," Ian said.
Jamie's Ministry of Food was established in Australia in 2010, when electrical retailer The Good Guys partnered with Jamie Oliver to bring the concept to Australia. The Good Foundation was established to deliver the concept and has partnered with the Victorian Coalition Government to implement the initiative here in Victoria. Jamie's Ministry of Food Geelong is part of the Prevention Community Model, a jointly funded initiative of the State Government of Victoria and the Australian Government.
Jamie's Ministry of Food Geelong is based on a local philosophy whereby it's staffed by local food experts and volunteers, backed by local businesses such as GMHBA Health Insurance and City of Greater Geelong and sources fresh local produce from the region.
Jamie's message to the Geelong community was not only simple, but loud and clear.
"I know for a fact that Geelong are going to love the Ministry of Food Centre. It's all about great food, local produce and really sharing it among the community. So have a go, enjoy it and if you really enjoy it, go and tell your friends."
Jamie's Ministry of Food Geelong will be open to the public to explore on Saturday 6th October and the first round of cooking course will commence on Tuesday 9th October. Geelong residents can book a course by visiting www.jamiesministryoffood.com
Available for interviews:
Alicia Peardon, CEO, Jamie's Ministry of Food Australia
Ian Curley, Ambassador, Jamie's Ministry of Food Australia
For additional information, images and interview requests please contact Style Counsel:
Camilla Speirs P: 03 8506 1641 M: 0409 359 339 E: camilla@stylecounsel.com.au
Reece Mitchell P: 03 8506 1630 M: 0457 095 755 E: reece@stylecounsel.com.au