Jamie Oliver's home cooking program is open for bookings in Western Australia
16 Dec 2015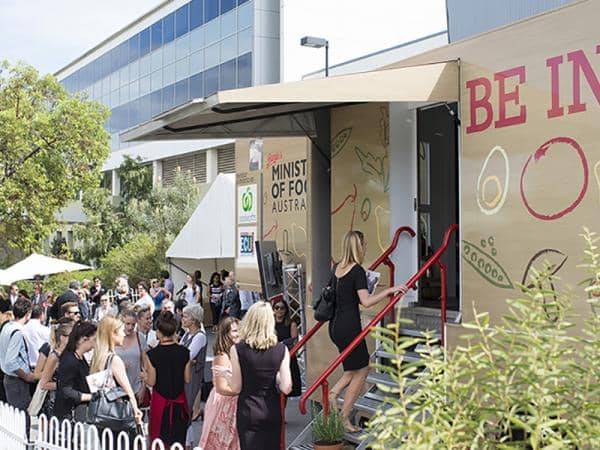 JAMIE OLIVER'S PLAN FOR HIS AUSTRALIAN MINISTRY OF FOOD PROGRAM HAS ALWAYS BEEN TO REACH AS MANY AUSTRALIANS AS POSSIBLE. NOW AVAILABLE TO THE RESIDENTS OF AUSTRALIA'S FAR WEST STATE, JAMIE'S MINISTRY OF FOOD MOBILE KITCHEN BASIC COOKING SKILLS PROGRAM IS OPEN FOR BOOKINGS AND DUE TO LAUNCH IN MARCH 2016.
By visiting www.jamiesministryoffood.com and booking into a course now, residents of Western Australia can access the innovative, community based cooking program based on Jamie's beliefs around the associated benefits of cooking fresh food from scratch.
The recent ABS National Health Survey 2014-15 reported an increase in obesity with 63.4% of Australian adults and around one in four children aged 5-17 were overweight or obese, it has never been more important for Australians to learn to prepare nutritious meals and eat more fresh food.
Teaching Jamie's hints, tips and cooking shortcuts, the Mobile Kitchen will launch at ECU's Joondalup Campus as part of a three year partnership. The kitchen classroom on wheels will then make its way to other ECU campuses yet to be announced. Jamie's Ministry of Food is also working with ECU to make various community visits including plans to work with Aboriginal communities.
Research shows that only one in ten Western Australian residents eat the recommended daily serves of fruit and vegetables and 66.6% of adults are overweight or obese.
The people of Western Australia can now reap the rewards of the program and work toward better long term health by taking the course and learning to cook nutritious meals for themselves and their families.
Jamie's Ministry of Food Australia has been proven to work. A comprehensive evaluation, conducted by Deakin University and University of Melbourne showed that program participants gained new cooking skills and food knowledge, were more confident to cook meals from scratch, increased their vegetable intake and spent less on take away foods. (Full report available at www.jamiesministryoffood.com)
The Mobile Kitchen program offers a 7 week cooking course, comprising one 90-minute cooking class per week with up to 12 participants in each class. Delivering hands-on basic cooking classes led by a team of dedicated Food Trainers, while in WA, it will run with the support of ECU students, interns and volunteers.
Jamie's Ministry of Food, delivered by The Good Foundation, achieves measurable health and wellbeing outcomes for participants by inspiring and empowering them to change in the way they and their families eat, and how they think about food. Cooking is a life skill which should be accessible to all.
Classes cost $20 per session, $15 for student card holders and $10 for concession.
The Good Foundation is a not-for-profit organisation which has partnered with Jamie Oliver and principal partner, Woolworths to deliver Jamie's Ministry of Food throughout Australia.
The Good Guys, founding partner of Jamie's Ministry of Food Australia, is proud to support the program which is helping to build healthier and happier communities.