Jamie Oliver's home cooking course available in Townsville for first time
22 Feb 2016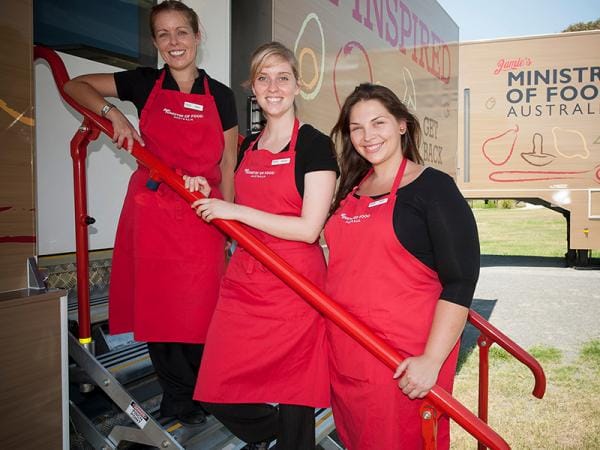 JAMIE'S MINISTRY OF FOOD MOBILE KITCHEN IS SET TO VISIT TOWNSVILLE FOR THE FIRST TIME, INCREASING THE QUEENSLAND FOOTPRINT. TOWNSVILLE WILL BE THE FOURTEENTH QUEENSLAND STOP FOR THE KITCHEN CLASSROOM ON WHEELS. FOLLOWING HUGE SUCCESS IN PREVIOUS LOCATIONS, THE MOBILE KITCHEN WILL BE IN TOWNSVILLE FROM 31 MARCH FOR TEN WEEKS, LOCATED AT STOCKLAND TOWNSVILLE IN AITKENVALE.
Local residents will have the opportunity to access and participate in an innovative, community based cooking program built on Jamie's beliefs about cooking and the associated impact on healthy living.
Classes begin on 31 March concluding in June. While in Townsville, Jamie's Ministry of Food Mobile Kitchen will deliver two cycles of the five-week cooking course to the local community. With classes running from Monday through to Saturday each week there are a variety of times available with up to four classes held each day. Bookings open on 17 March, 2016.
The Mobile Kitchen program offers a five-week cooking course, comprising one 90-minute cooking class per week with up to 12 participants in each class. The mobile home cooking course will deliver hands-on basic cooking classes led by a team of dedicated Food Trainers and local volunteers.
Jamie's Ministry of Food Australia is delivered by The Good Foundation and supported by Stockland while in Townsville. Danelle Parker, Marketing Manager of Stockland Townsville, said: "We are thrilled to be a part of this positive program, bringing Jamie's Ministry of Food to the people of Townsville. At Stockland Townsville we know the importance of a diverse fresh food offering and continually strive to deliver more for families in the area. We see this new initiative with The Good Foundation as a perfect example of this objective for the local community – teaching people cooking skills and healthy eating habits."
Jamie's Ministry of Food Australia has been proven to work. A comprehensive evaluation, conducted by Deakin University and University of Melbourne showed that participants who complete the cooking course, gained new cooking skills and food knowledge, were more confident in cooking meals from scratch, purchased and consumed more vegetables and spent less on take away foods. The program also had some flow on benefits in bringing families together to the share a meal around the table. The research showed these behaviour changes were sustained 6 months after completing the course.
The program includes Jamie's hints, tips and shortcuts for preparing food from scratch using fresh ingredients which is of particular importance with only approximately 7% of the Australian population eating the recommended daily serve of vegetables.
"Our program teaches people how to incorporate more fresh food into their diets and I have no doubt that many Townsville residents will benefit from the program," said Elise Bennetts, Acting CEO, Jamie's Ministry of Food Australia and The Good Foundation.
Jamie's Ministry of Food is a practical solution to the problems associated with diet-related disease. The community-focused program aims to inspire people to get back to basics in the kitchen. It's about teaching people to start cooking for themselves and equipping them with some simple skills and knowledge. The program inspires and empowers change in the way they and their families eat, and how they think about food.
Jamie's Ministry of Food relies on local volunteers to assist in running the program and welcomes local residents to sign up to be a part of the team. For additional information on how to become a volunteer, please send an email expressing your interest to volunteer@thegoodfoundation.com.au
A fun and engaging program that fosters a sense of community and social connectedness, the program achieves measurable health and wellbeing outcomes for participants. Cooking is a life skill which should be accessible to all.
Jamie's Ministry of Food Mobile Kitchen will be located at: Stockland Townsville, Alfred Street open carpark on the Corner of Alfred & Elizabeth Streets, Aitkenvale, QLD 4814.
Classes cost $20 per session, $15 for student card holders and $10 for concession. Bookings are open now and can be booked through www.jamiesministryoffood.com
The Good Foundation is a not-for-profit organisation which has partnered with Jamie Oliver and principal partner, Woolworths to deliver Jamie's Ministry of Food throughout Australia. Queensland Health has committed funding to The Good Foundation to support the delivery of the program in Queensland. The Good Guys, founding partner of Jamie's Ministry of Food Australia, is proud to support the program which is helping to build healthier and happier communities.