Discover the passion of cooking good food
22 Oct 2019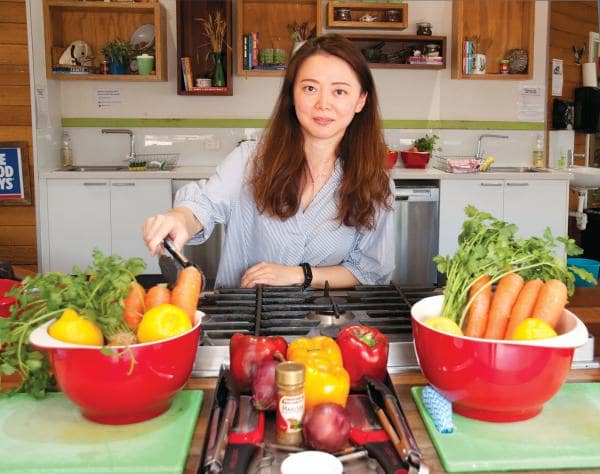 Jamie's Ministry of Food in Ipswich is just one of two training kitchens in Queensland enabling participants to discover the joys of cooking along with the health and taste advantages of preparing nutritious meals.
The cookery course, which is open to anyone, is a place where people can come together to learn practical, hands on cooking within a sociable and friendly community.
The courses teach students how easy it is to cook fresh, healthy food and aim to alter bad habits that lead to obesity.
However, it also works to connect and empower people through a shared passion.
Local mum Yun Chen entered the course after moving to Australia and discovering she was lost at sea in the super market among all the different ingredients.
"I was a stay at home mum living in Taiwan. When we moved to Australia recently, I knew nothing about making basic daily Western dishes."
She said that a neighbour mentioned the course to her, and since enrolling and graduating; she has discovered a new love for creating dishes and testing her skills while still maintaining her own style.
"I feel more confident that I'm shopping for the right ingredients when I go to the supermarket and I can easily take the techniques that I learnt in the course and apply them to my own style of cooking."
Food and cooking has opened doors into the wider community for Yun Chen, and this has allowed her to feel at home in a new place as well as connecting more with her family.
"I consider cooking to be one of my hobbies now. I no longer look at cooking as just a way to feed my family, it's now a process I enjoy. The benefits of preparing a healthy meal for my family stretch far beyond the dinner table."
Jamie's Ministry of Food Ipswich opened in 2011 and has since boasted many positive reviews and happy customers.
For those looking to enrol, they can do so by visiting the kitchen in D'Arcy Doyle Place or via the website where each cooking course has price rates suited to concession, student and adult participants.
Photo: Student chef Yun Chen gets ready to prepare a meal at Jamie's Ministry of Food in D'Arcy Doyle Place.
Full article from Ipswich Life