5-week Jamie's Ministry of Food cooking program
03 Apr 2017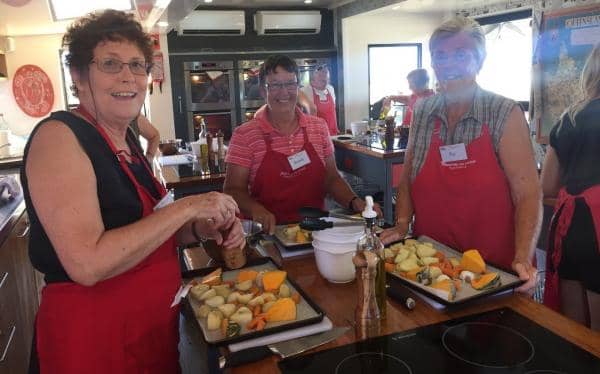 JAMIE'S MINISTRY OF FOOD IS A COMMUNITY COOKING PROGRAM THAT IMPROVES THE HEALTH OF PARTICIPANTS BY EDUCATING, EMPOWERING AND INSPIRING THEM TO LOVE AND ENJOY GOOD FOOD.
Delivered in Australia by The Good Foundation (TGF), the 5 week course teaches individuals the basics on preparing simple, healthy and affordable meals. All classes include Jamie's cooking hints and tips, nutrition advice and information on seasonal produce and budgeting. Participants experience hands on lessons with a dedicated Food Trainer and take home the meal they prepare to share with family and friends. The program is delivered through our Queensland Mobile Kitchen, which is a purpose built kitchen on wheels, equipped with domestic grade appliances and offering a welcoming and comfortable environment.
"Armed with a handful of tasty recipes and some basic cooking skills, we can inspire, educate and empower people to change the way they think about food" – Jamie Oliver.
Over the past 20 years, Australian consumption choices have changed dramatically. We're now eating the wrong things and too much of them. We're not getting a balanced diet and our lifestyle has created an unhealthy reliance on processed foods which don't provide the right kind of nutrition for good health. As a result, we're now more likely to develop obesity-related illnesses like heart disease, cancer and diabetes. Nationally, 63% of adults are now overweight or obese and only 7% of adults are eating the recommended daily serves of vegetables. Jamie's Ministry of Food is designed to address the gap that exists between information being provided to individuals on nutrition and healthy eating and their practical experience and abilities.
Late last year, Judy Brookman's life changed forever. This once social, independent and active 71 year old woman, suffered an unforeseen stroke. Her stroke meant that physically and cognitively she wasn't as strong as she once was. Therefore she lacked confidence, and often got frustrated when she couldn't express herself, or do the things that she once could, such as cooking for herself and her family. These feelings and lack of confidence isolated Judy and disconnected her from her friends and family.
After hearing that Jamie's Ministry of Food Mobile Kitchen was in her hometown in Queensland, Judy, along with her two friends; Brenda and Pat by her side, enrolled in the 5-week cooking course at Stockland Living Newport, Queensland. The three, wanted to come along to learn new skills in the kitchen, and get some spark back into their cooking. Judy was also encouraged to enrol in the course due to the light-hearted and welcoming environment created by the team guided by Jamie's fun personality and mantra that fun cooking lessons can transform lives. The supportive and inclusive community vibe the Ministry of Food course creates, allowed Judy to be herself and slowly become more confident in the active social setting.
Judy, Brenda and Pat were all enamoured with learning how to prepare the perfect egg, as well as fluffy rice. It was the little tips and tricks that they learnt throughout the course, Pat said, that helped the most "So you CAN teach old dog's new tricks!"
Due to her stroke, Judy's motor skills weren't the same as they once were, therefore she lacked some confidence, and often got frustrated when she couldn't do the things that she once could in the kitchen.
However, over the weeks Judy completely emerged from her shell. The hands on teaching and learning through doing, allowed Judy to grow so much more confident in her knife skills and memory recall. Her motor skills improved from week to week as skills we re-used and built upon. In the Mobile Kitchen, Judy was becoming more and more independent each week. She began turning down offers of help, not because of pride, but because she knew she could now do it herself.
The change in her was so evident from the smile that you couldn't wipe off her face. For Judy, it was important for her to return to cooking, cooking for herself again would allow her to become more independent at home. Completing Jamie's Ministry of Food cooking course within the safe and supportive environment created, was the stepping stone she needed to return to the social, independent and active 71 year old woman she was.